WEDNESDAY, 29th AUG. 2012
Share a Book Program – Students Helping Students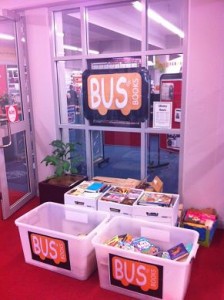 St Scholastica's College is the first school in Sydney to engage in the Share a Book Program – Students Helping Students. In the weeks leading up to the event, staff and students at St Scholastica's College were collecting new and pre-loved books in preparation for a hand-over to the Bus of Books team on the school's bi-annual Good Samaritan Foundation Day held on Wednesday 29th August 2012.
On this day, the Bus of Books team will visit the school by bus to collect the donations that will contribute to the books, educational resources and funding currently being raised in support of Collarenebri Central School in rural NSW.
Thank you to St Scholastica's staff and students for organising this book drive and special event in support of Bus of Books. Bus of Books hope to foster change by inspiring the imaginations of young people, helping them enjoy the experience and benefits of reading & learning and enabling them to make a difference in each other's lives one book at a time.